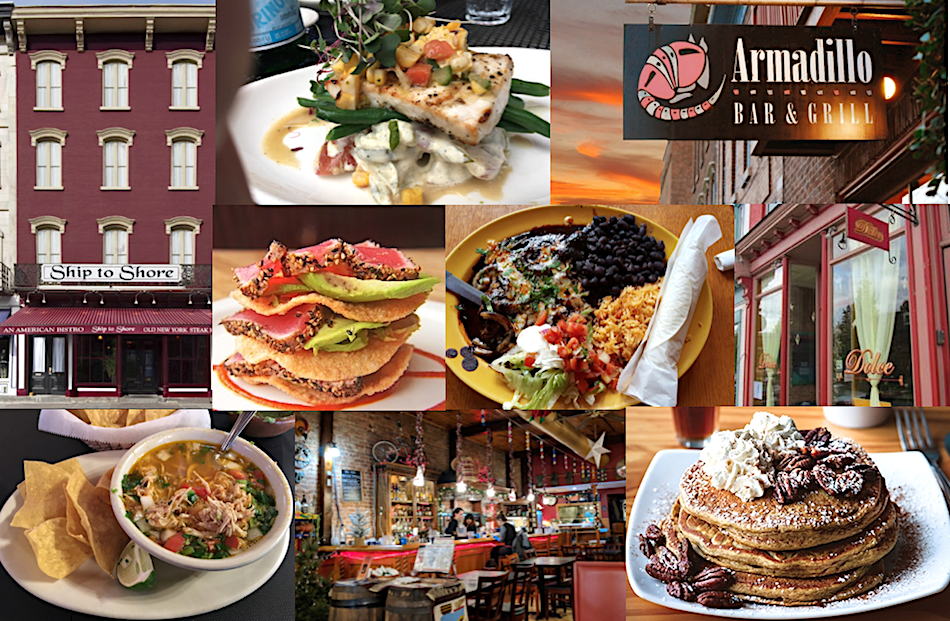 Kingston NY has had a long history synonymous with the beginnings of the United States of America. Since Henry Hudson sailed up what was known as the "Nordt River", Kingston has been an intersection of trade and a gateway to the West.
Today Kingston has been undergoing a renaissance thanks to burgeoning film and tech industries moving up from nearby New York City. Because of its geography, Kingston is best understood as a barbell: the two weights at either end are Uptown Kingston (also known as the Stockade District) to the west and The Rondout located by the water to the East united by the long stretch of Mid-Town Kingston (currently being re-branded as the Kingston Arts District.) This plan of the City has created the vital neighborhoods that now support vibrant new restaurants and businesses. The Rondout is located in the middle of a growing and transformative waterfront community affectionately known as "The Strand" to the locals. The Historic Kingston Waterfront is full of history that dates back to the British invading the Kingston area in 1777 using the waterway channel that maritime boats casually cruise down today.
Rondout-On the Waterfront:
In the 19th century, The Rondout was a bustling port for shipping bluestone, grains, and tanned leather down the Hudson to New York City. Today, it is a picturesque neighborhood with boutiques and eateries bordering sailboat and motorboat marinas.
Thanks to a vibrant Latin American community in the Hudson Valley, two Mexican restaurants call the Rondout their home. MoleMole, a Tex-Mex and Spanish restaurant and Armadillo, which serves Southwestern and Mexican cuisine are noteworthy for the quality and authenticity of their respective menus. With cozy decor and friendly service, you can enjoy South of the Border warmth all the way in upstate New York. For a brunch treat, check out Dolce, which serves up crepes, pancakes, cinnamon rolls, omelets, and other gourmet baked goods.
Ship to Shore- as quoted in Zagats: "Wonderful appetizers", "true dry-aged steaks" and other "fantastic" New American dishes from chef-owner Samir Hrichi make this "reliable" Kingston "staple" a "refreshing delight" amid the "waterfront noiseterias of the Rondout district". A true American Bistro, Ship to Shore boasts a myriad of 5-star reviews along with the highest Zagat-rated American Bistro in the Hudson Valley.
No matter what you like to eat, make the drive to Kingston, New York and enjoy the latest in gourmet variety, traditional specialties or ethnic cuisine.
Visit our other posts about eating out the Uptown and Mid-Town/Arts District of Kingston, NY!