Local Expertise and Personal Touch: Why Buyers, Sellers and Agents Choose Independent Agencies
The trend toward consolidation continues in the Real Estate industry, and some owners of smaller brokerages are looking to be acquired. However, there are numerous reasons people choose to work with and for a local, independent agency, as detailed by agents, as well as home and commercial property buyers and sellers, in the Hudson Valley.
The Great Consolidation (How We Got Here)


Phase I of Real Estate's Great Consolidation was the industry entrance of non-traditional, national powerhouses such as Sotheby's and Berkshire Hathaway — and experts believe we have yet to reach the apex, with big corporations like Amazon and Zillow drilling ever deeper into the market. In fact, the latest D.A.N.G.E.R. Report from the National Association of REALTORS® further warns of a consumer brand 'crashing the party.'
Now well underway, Phase II is the increasing frequency of industry mergers and acquisitions. There was more M&A activity last year than ever before — and the Real Estate industry was no exception, "eclips[ing] the record level set on the eve of the financial crisis" with $387 billion in announced transactions worldwide.
Here in the Hudson Valley
If you live in the Hudson Valley, you've probably grown accustomed to passing by as many for-sale signs from national franchises as long-standing, local, independent brokerages; but you may not have expected the area's latest market news (May 31, 2018): Berkshire Hathaway HomeServices Hudson Valley Properties' acquisition of local agency Westwood Metes & Bounds Realty Ltd.
For some of Westwood's closest competitors, the absorption of a local brokerage into a corporate juggernaut was alarming. How do we compete with a national brand? However, research suggests that home buyers and sellers would rather work with a local expert they trust than a brand with a logo they merely recognize. Meanwhile, agents prefer the freedom and support they experience working for an independent firm.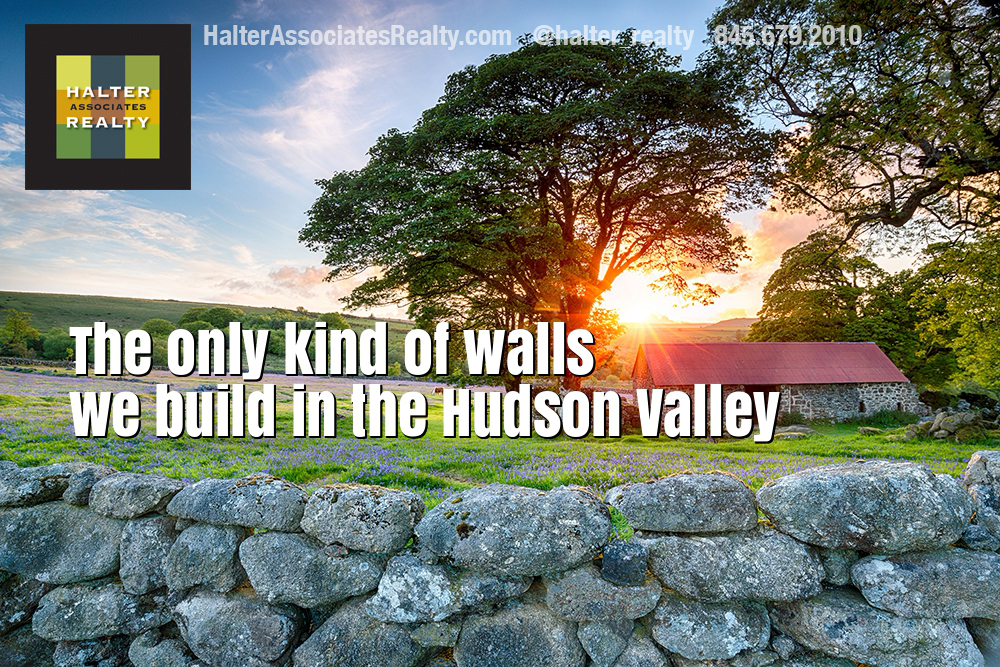 In Their Words
Matt, Buyer - Residential:
I've now worked with Halter Associates Realty on multiple real estate deals in the Hudson Valley and I've never even considered going with anyone else. Halter Associates delivers, thanks to their attention to detail, dedication and connections. I had a great experience buying a home in Woodstock from Lisa years ago, so when I was ready to move again, I listed that same home with Lisa — and it sold above asking price! I then connected with Halter's luxury real estate specialist Judy Steinfeld and purchased a beautiful, modern farmhouse on Cooper Lake Road. It was quick, easy, and exactly the home I was looking for. I trust Halter Associates in a way that I wouldn't be able to of a national brand.
Babs - Seller, Commercial & Residential:
I deeply believe that any time I have a reasonable choice, it is important to work with a local business. Next, I look at the people running the business. I need to be confident that my REALTOR® can close the deal at the best terms. I really cared about finding the right buyer who would successfully transition the business I worked so hard to build in this community I love. Lisa and her team at Halter Associates Realty have the local market knowledge, the contacts and the excellent negotiating skills necessary to get the job done. I was very satisfied with how they marketed my business property and that they got it sold in a reasonable amount of time. The HAR team was very respectful of my needs and input, and they were easy to work with. For all those reasons, I have now listed my home on Glenford Wittenberg Road with Halter Associates Realty, too.
Judy - Licensed Real Estate Salesperson & Associate Broker:
When I decided to return to the real estate business after a number of years, I knew from my past experience working with a franchise in New York City that I needed to find an environment more conducive to how I work — no pressure about volume, no franchise fees, and no desk fees. I want the freedom to focus on what I love: guiding my clients through the process of buying and selling luxury homes. And sure, I'm looking for marketing support, but not from some cookie-cutter turnkey template. If I'm marketing my business, shouldn't I have a say in how it looks and feels?
Lisa - Principal Broker/Owner:
When I first contemplated opening my own brokerage, I looked into associating with a franchise tied to a recognizable national brand. But I know real estate is local, and the largest percentage of the workforce today, millennials, are weary of overreaching corporations. For first-time home buyers, they want the trust only local, independent agencies can provide. For REALTORS®, they're more interested in the quality of office life and work-life balance than they are in how much money they can make. New agents are more likely to choose a local, independent team, with freedom, support, and no franchise or desk fees. My experienced agents, meanwhile, have stronger ties to the community and years of experience honing their craft, so they prefer to work with an independent brokerage that isn't going to require a lot of top-down changes. Their clients appreciate their local expertise and connections, as well as the personal attention they can provide, unimpeded by volume quotas.
See for Yourself
If you're looking to buy or a sell a home in the Hudson Valley, you should consider all your options. Call a national franchise, then give Halter Associates Realty a call, and Experience The Halter Difference. As the fastest growing agency in the Hudson Valley and the largest independent brokerage in Woodstock, what they're doing is working. Leverage their local knowledge and experience to help you achieve your real estate goals.
Make The Right Move: Schedule your free consultation today.