What does $22 - $28 million get you in the Hudson Valley? Unrivaled splendor, a property with a name and a fascinating history. Luxury real estate in the Hudson Valley is like no other, with stunning homes and grand entrances, majestic mountains and Hudson River views, and perfectly landscaped properties with horse stables, pools and ponds. Let's face it, you'll never want to leave the luxurious comforts of your magnificent manor. Take a look at three perfect examples:

Lightning Tree Farm in Millbrook, NY/ $28,500,000 - See Full Listing Here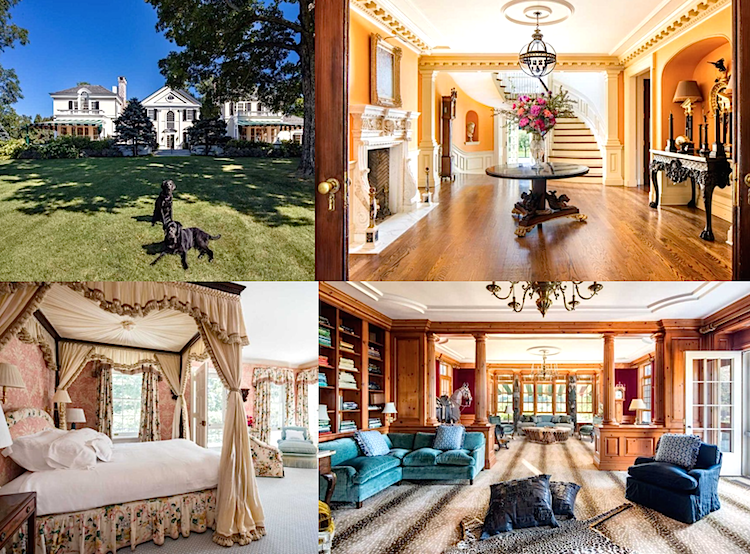 Built in 1850, Lightning Tree Farm reigns as the dominant estate in the midst of Millbrook hunt country. A property of sophistication and grandeur, it is more than a home...it is a lifestyle statement. A grand 150-year-old history combines with extraordinary updates and amenities, including a helipad, professional kitchen, and exquisite limestone pool with pool houses. In addition to a profusion of rooms for living and entertaining, the home features a fanciful children's playroom with built-in stage, a luxurious home theater, a wine cellar, dog room, flower-arranging room, and ample staff quarters.
Atalanta Estate in Red Hook NY - $22,000,000 / See Full Listing Here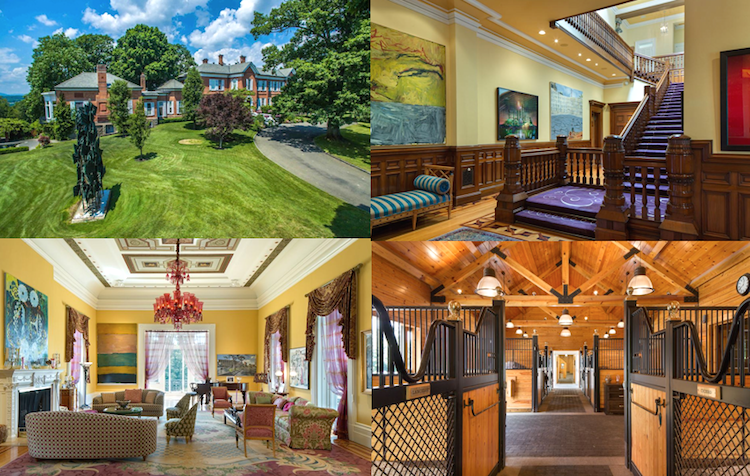 One of the most important estates in the Hudson River Valley, in an incomparable setting with over 289 breathtaking acres and dramatic vistas of the Hudson River, this 16,000 square foot Georgian manor features a level of museum-quality details and luxury amenities rarely attained. Steeped in a storybook provenance, it was originally built in 1851 as the home for Franklin Hughes Delano and his wife, Laura Astor Delano on land received as a wedding gift from part of the Astors Rokeby estate. Two additional wings were added in the late 1800s to complete the grandeur of this magnificent residence. Today, the estate encompasses an impressive array of entertaining amenities and outbuildings featuring a Greek Temple-inspired pool house with a sparkling pool and adjacent tennis court, a three bedroom guest house, a three bedroom farmhouse, a stone gatehouse, carriage house with storage and two second floor apartments, a charming 2 bedroom Victorian gardeners cottage, and commercial grade greenhouse.
Sugar Maple Farm, Poughquag, NY - $23,500,000 / See Full Listing Here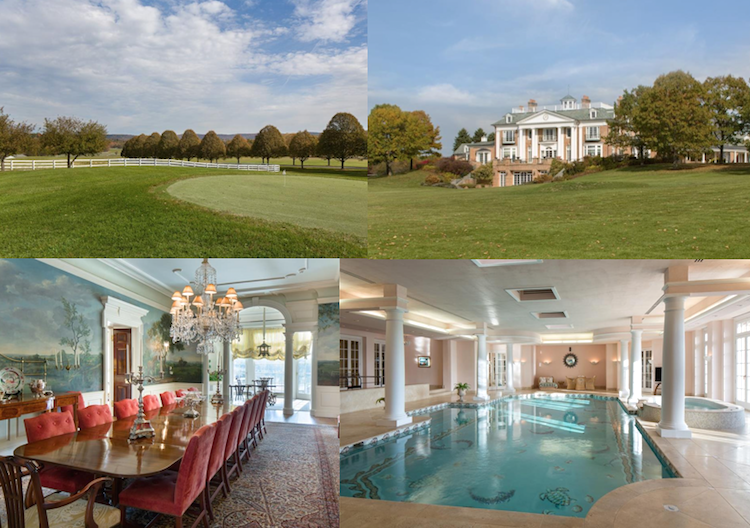 Sugar Maple Farm is centered by a majestic Georgian-style manor on a 466-acre property that blends a picturesque mix of lush lawns, verdant pastures, sparkling ponds, handsome white-fenced paddocks dotted with numerous outbuildings, and a full complement of top recreational and equestrian amenities. Equestrian facilities include six individual barns which provide stabling for nearly 100 horses. Framed by a gated approach gracefully lined with Linden trees, this supremely private manor exudes style and elegance at every turn. The premier example of Georgian architecture is flanked by a two-bedroom guest house with service kitchen on one side and staff quarters on the other, both connected by gracefully curved porticos.
* * *
Give us a call for a private viewing of any of these stunning estates
Be sure to check out each listing above to see the full character of each of these estates, their beautifully designed rooms and landscaped properties. If you're in the market for premiere real estate, visit our website and search our Platinum Properties for access to the finest estates on the market today. Our list of luxury homes for sale in the Hudson Valley enables our elite clientele to search and browse unique properties.
Lisa Halter
Principal Broker/Owner
Halter Associates Realty
lisa@halterassociatesrealty.com